Take colour mixing to the next level.
Move up to the opportunities of automated dosing
---
Technology and automation are the future of efficiency in the body shop. Standox customers around the world already benefit from the fully digital colour management system via the Standowin iQ Cloud and the advanced Standoblue Basecoat products. But now Standox is taking the entire painting process to the next level by offering Standoblue Basecoat in pre-filled bottles for use in the fully automated Daisy Wheel 3.0 dosing machine from Fillon Technologies.
With a wide range of benefits, the use of these technologies in combination increases bodyshop efficiency and allows skilled professionals to focus their manpower on more profitable aspects of a repair while increasing the business's vehicle throughput and excellent refinishing results.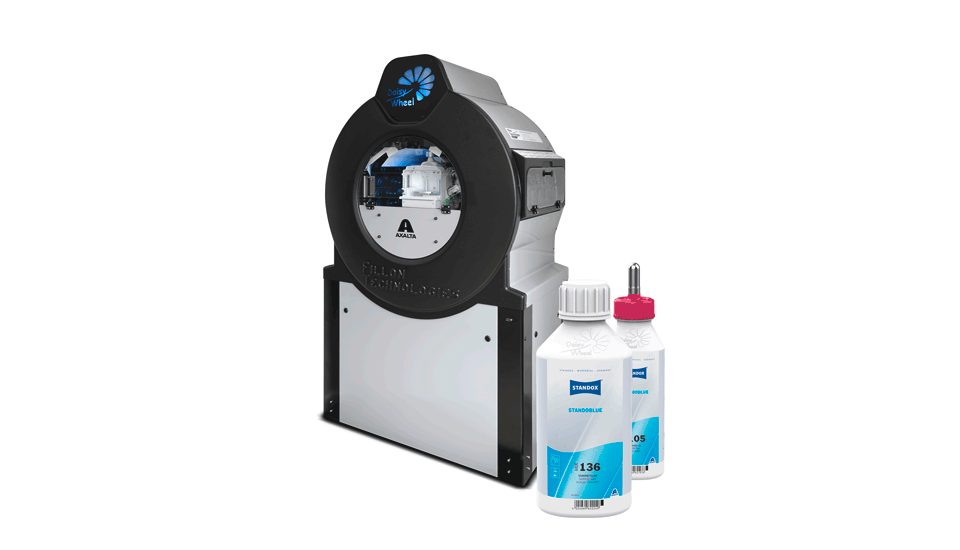 Next level specifications
| | |
| --- | --- |
| OEM / Supplier | Fillon Technologies |
| Size (H x L x D cm) | 195 x 120 x 70 cm |
| ATEX / ULSCA / IECEX | Possible |
| Connectivity | Standowin iQ Cloud |
| Internet connection | LAN |
| Prefilled / Ready-to-use mixing toner bottles | Standoblue Basecoat mixing tints |
| Bottle sizes | 500 ml / 1 litre bottles |
| Paint homogenisation | Automated Soft Mixing modus |
| Mixing quantity | 2 liter |
| Disposable cup detection | Yes |
| Cleaning | Automatic |
The leaders in advanced colour mixing: Fillon Technologies
The Daisy Wheel 3.0 is designed and manufactured in Europe by Fillon Technologies – the leading name in precision paint mixing systems. Together, Fillon and Axalta offer unrivalled experience in automated colour mixing. Combined with innovative waterborne Standox Basecoats the latest Daisy Wheel puts your bodyshop at the forefront of paintshop technology.The future of refinishing – here and now

The future of refinishing – here and now
Standox is your partner in building the bodyshop of the future. Our advanced and innovative car refinish product systems help you keep one step ahead of your competition and enable you to use technology to your best advantage. Combining elements of the Standox offer such as the Xtreme family of products or the 100% digital Standowin iQ Cloud colour management system means you can maximise that advantage.
Ready to step up?

Contact us to discover how this new Daisy Wheel dosing system can take your bodyshop to the next level.