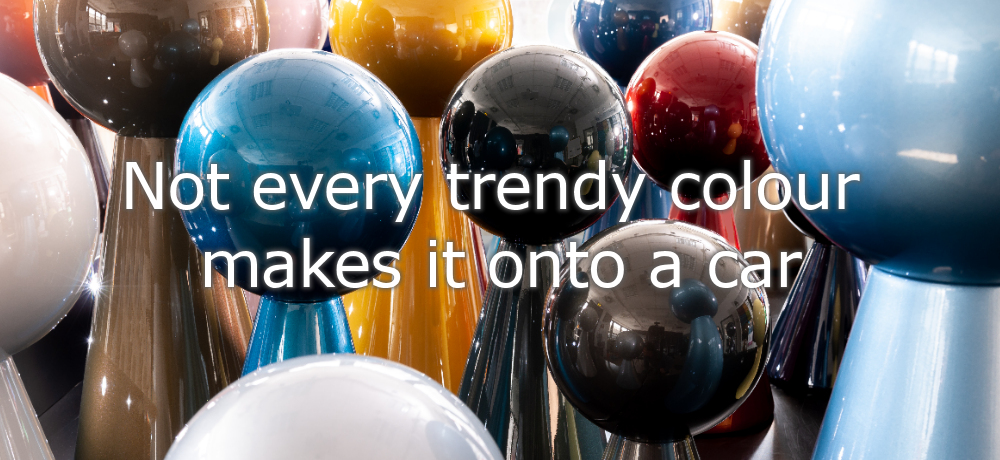 ---
When it comes to buying a new model, drivers increasingly pay more attention to the colour. Colour often represents more than a simple silver or white, but rather an expression of their personality and lifestyle.
That's why colour designers such as Elke Dirks at international paint manufacturer Axalta Coating Systems need to identify tomorrow's colour trends today. Whether the colour actually ends up being produced depends on whether bodyshops can properly restore the paint job down the road – which is where Axalta's refinishing brand Standox comes in.
Axalta colour designer Elke Dirks is constantly on the lookout for new colour trends.
One of the most popular colours on cars – at least in Europe – is grey. "Grey can now be seen on 22 percent of all new vehicles here," says Elke Dirks, Axalta colour designer for the Automotive OEM sector.

"Which brings this colour right up to the top of the popularity ranking." It is almost paradoxical: While in everyday language, grey is often associated with traits such as being reserved, dull or boring, it expresses something completely different on cars. "Here, grey stands for practicality and professionalism, as well as style and elegance. One might also say that people who drive grey cars are making a statement: they do not need gaudy colours to draw attention to themselves."
Despite this positive image, just a few years ago grey lagged far behind its "achromatic competitors", white and black. That has changed: According to the Axalta Colour Popularity Report, grey ranked second place in Europe, behind white, for the first time in 2018.
One reason for this increase is that the grey colour range can be produced with much greater nuances than in the past. Thanks to new pigments, effects and coating techniques, a colour that was previously rather inconspicuous now looks quite stylish. It cuts a fine figure especially on luxury vehicles.
It is essential for colour experts at the major vehicle and paint manufacturers to develop a keen sense for which colours are "up-and-coming" in order to be sufficiently prepared.
"Choosing and developing a new colour takes about two years," says Elke Dirks. "And that means that paint manufacturers really need to spot tomorrow's colour trends today."
Detecting and following up on these trends is one of the most important responsibilities of the Axalta OEM Colour Team. Because colour trends are not created; they are instead a logical conclusion to consistent analysis.
Through the use of models known as shapes, current colour trends can be particularly well represented.
"We compile numerous indicators and assess them," explains Elke Dirks. "And they fit together like a puzzle."
This includes evaluating chronological colour statistics as well as analysing customer- and model-related characteristics, along with the general mood. Trends in fashion, furniture and accessories, and also articles in trade magazines or online forums – anything can hint at new colour trends.
Not every colour that Elke Dirks and her colleague Christiane Lüdecke come up with actually ends up on cars.
---
At Axalta, these findings are presented in the concepts on display at the Colour Shows held each year. They offer clues as to the colour trends for the upcoming three to four years. The Colour Shows reflect current colour trends and innovations in technology and pigments, and help car manufacturers respond to the colour preferences of car buyers in a timely fashion.

However, identifying the right colour trends is just one side of the coin. Not every colour that Elke Dirks and her colleague Christiane Lüdecke come up with actually ends up on cars. The reasons for this are usually not related to aesthetics, but have much more to do with practical aspects of production.

"One relevant issue, for example, is whether the pigments needed for a colour are actually available on the market in sufficient quantity and quality," explains Gunter Richter, OEM Colour Research Supervisor at Axalta Coating Systems in Wuppertal. "Car manufacturers put a lot of emphasis on making sure that a colour can be applied in the same quality and accuracy at all their production sites around the world."
Axalta Colour Shows present current colour trends, thus offering car manufacturers valuable assistance.
So, before deciding on a certain colour, they check not only whether that particular producer can
guarantee that their pigments will be consistently available, but also whether a functional logistics supply chain is in place.

Manufacturers have to be able to apply each new car colour with the same quality and accuracy at all of their production sites around the world.
---
In production, it's important to think one step further: "We need to ensure that accidental damage to paintwork can be properly corrected later on at bodyshops. For this reason, refinishing is an important criterion for the automobile industry when introducing a new colour," says Harald Klöckner, Standox Training Supervisor EMEA. "So not only is the OEM paint taken into account by car manufacturers when developing their paints, potential refinishing is as well. Our close ties to the refinishing brand Standox give us a great advantage in this regard."
This close integration during development is not always the case in the industry. "Not every OEM paint brand is also involved in the refinishing sector. And not every refinishing manufacturer is associated with an OEM paint brand," says Klöckner. "This of course makes it much easier for us to match OEM and refinishing components."
---
Gunter Richter, who works at the Axalta plant north of Wuppertal, the production site for OEM car coatings, is therefore regularly in touch with his colleagues at Standox, which has an Information Centre south of Wuppertal. He briefs them about new pigments and provides guidance when mixing tints with these pigments need to be introduced. "In this way, we can test many factors that play a role in refinishing work in advance."
The pigment composition is optically analysed under a microscope before calculating the mixing formula with a spectrophotometer and, based on this, initial spray samples are then produced with Standoblue.

However, a complex process is required before Standox has a complete refinishing formula. "First, the new colour sample is optically analysed under a microscope to determine which effect pigments are visible in the paint," says Harald Klöckner. "Then a spectrophotometer is used to calculate the mixing formula and, based on this, initial spray samples are produced with Standoblue – not by humans, but by automated painting systems in order to keep the spray pattern neutral."
These samples are then digitally measured a second time, checked for colour fidelity and, if necessary, adjusted to the original colour using nuancing agents. This resulting product is the one that finally ends up as a brand formula in the web-based Standowin iQ colour software - where it is available to any bodyshop.

---
"We are limited to eight mixing tints, which are needed to determine the exact formula," says Klöckner. "But one formula is not enough: We also offer most colours in other quality coatings, such as Standohyd Plus or Standox Basecoat for the non-European market. This process is repeated for each quality coating."
The layering of special colours is tested in terms of application techniques.
If the repair of a new colour proves to be particularly complex (such as multi-layered composition), the application technicians test the results again under ordinary bodyshop conditions.
Standox offers colours for diverse quality coatings, such as Standoblue, Standohyd Plus or Standox Basecoat.
In this way, some 60 new formulas are entered in Standowin iQ each week. "This requires a great amount of effort," admits Harald Klöckner. "But this is the only way to ensure that our partners in the paint trade obtain the best possible results."
Elaborate colours are tested under bodyshop conditions.